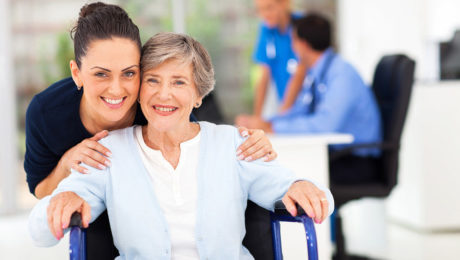 What is osteoarthritis?
Osteoarthritis (or wear-and-tear arthritis) is the most common type of arthritis and will affect approximately 2 million Australians in 2019.
Osteoarthritis is a disease which affects the otherwise smooth and shiny cartilage within joints, and makes these surfaces rough, porous, thin, crumbly or bumpy.
Most commonly, osteoarthritis affects weight-bearing joints such as the knees, hips and spine.
However, arthritis can also affect smaller and more nimble joints like those in the hands, fingers, elbows and toes.
How do I find out if I have osteoarthritis?
Osteoarthritis affects people of all ages but the disease is more common amongst men and women above the age of 45 years and is especially prevalent in older women.
Your general practitioner (GP), orthopaedic specialist or rheumatologist can screen you for osteoarthritis.
To be accurately assessed, your doctor will likely need the following for a diagnosis:
Basic medical history
and
X-ray, CT or MRI scan
(Note: A blood test is sometimes recommended to rule out other possible types of arthritis e.g. rheumatoid arthritis).
What are my options if I'm diagnosed with joint osteoarthritis?
There are three primary goals when treating osteoarthritis: 1) control the pain, 2) preserve joint function and 3) slow further osteoarthritis progression.
The following osteoarthritis treatments have a few key benefits and limitations:
1) Over-the-counter pain medication:
Over-the-counter pain relief (e.g. paracetamol) and anti-inflammatory medications (e.g. ibuprofen) are sometimes enough to control mild soreness and restore pain-free movement. For early-stage arthritis, it's generally most important to maintain an active lifestyle through low-impact exercise and activities.
2) Prescription pain medication:
Some stronger pain relievers (e.g. hydrocodone and tramadol) may have more long-term usage risks. Subsequently, these medications require a prescription and can help manage pain and restore joint function in more severe cases of osteoarthritis. Corticosteroids (e.g. prednisone) also require a prescription but may provide a more potent therapeutic benefit for patients in considerable pain. Long term use of these drugs may lead to side effects and their suitability should be discussed with your doctor.
3) Exercise and physiotherapy:
Although pharmaceutical relief might be necessary to begin or continue exercising with sore joints, benefits of exercise include strengthening the muscles that surround the joint(s), maintaining bone strength, improving flexibility, achieving good quality sleep, managing weight and improving your overall mood and confidence – key factors in reducing your risk of osteoarthritis-related debilitation long-term.
4) Non-surgical regenerative therapy:
Regenerative medicine is a rapidly developing field of medicine with the approach of repairing the damaged joint. The purpose of regenerative medicine is to restore the quality of cartilage in order to slow or reverse disease progression, reduce pain and restore joint function. These therapies include stem cell joint repair, platelet rich plasma and ligament prolotherapy.
Although the majority of regenerative medicine treatments are relatively new in Australia, other countries have researched, developed and incorporated some of these non-surgical treatments into standard practice for orthopaedic patients over the last 15 years. According to the results released from these clinics and hospitals, regenerative therapies are more effective against early-stage osteoarthritis, and are often considered by patients who are too young for joint surgery. These therapies can be quite expensive, starting from $15,000-30,000 per joint. If you'd like to discuss these treatments, SkyGen Australia have coordinated patient treatment at these centres for the better part of a decade (www.SkyGen.com.au).
5) Orthopaedic surgery/Joint surgery:
For most patients with debilitating pain caused by moderate-severe osteoarthritis, joint replacement surgery is often the most appropriate option. Joint replacement surgery has been performed for over 60 years, and can significantly reduce pain and restore a joint's range of motion in approximately 80 % of patients. After the first joint replacement, a once-off "revision" is generally required 10-15 years later. Revision surgery does have a higher risk of complication. Revision implants are typically cemented in place to help withstand the remainder of a patient's life. This is one of the reasons why orthopaedic surgeons prefer a patient to be at least 55-65 years old before joint replacement is considered.
Diagnosed with Osteoarthritis? What to do next
If your doctor has diagnosed you with knee, hip or spinal (vertebral) osteoarthritis there are a few key questions to ask yourself and/or discuss with your doctor:
Q1. Does my osteoarthritis affect my mood/sleep/day-to-day life?
If not, anti-inflammatory and/or anti-pain medication and light exercise may be most appropriate. If yes, continue to Q2…
Q2. Am I under 55? Do I want to avoid surgery? Is the pain still bearable?
If the answer is "yes" to any of these questions, you may want to explore non-surgical/regenerative medicine options such as stem cell therapy. If you answered "no" to all, continue to Q3…
Q3. Do I already have private health cover for joint replacement surgery?
If yes, you may consider booking an appointment with a private orthopaedic surgeon to discuss joint replacement surgery through a private hospital or surgery centre. We recommend discussing all of your medical and financial risks, including potential out-of-pocket costs and extent of your coverage (contact your insurer for more information). If not, continue to Q4…
Q4. Does my osteoarthritis prevent me from working or earning an income (effectively already costing you money)?
If not, then you may want to consider joining a public waiting list (1-3 years depending on your location, joint type and disease severity). If yes, continue to Q5…
Q5. Can I accept waiting the mandatory 12 month waiting period once joining a private health insurer?
If yes, then contact a private health insurer to discuss the details of cover for joint replacement surgery and find the best solution for you. Make sure to openly discuss all underlying health conditions honestly. You don't want to get to the end of 12 months of paying premiums only to find out you've been excluded from coverage and sent back to square one. If you can't afford or bear to wait 12 months, continue to Q6…
Q6. Can I afford $32,976-$61,699 for private orthopaedic surgery?
It's difficult to estimate the costs of hip and knee replacement in Australia. A recent article in The Australian, reported that hip replacement surgery in Australia can vary by $43,000 between surgeons (the procedure itself costing up to $61,699). For knee replacement surgery in Australia the price can vary by up to $16,000 between surgeons, costing anywhere up to $32,976. If these options are financially viable, it might be worth contacting a private orthopaedic surgeon in your city/state to discuss your options and associated costs up front (we recommend contacting multiple surgeons for comparison). If these prices are beyond your budget, consider continuing to Q7…
Q7. Would you consider orthopaedic surgery overseas?
In actual fact, more than 22,000 Australians travel around the world to receive high quality private surgery each year for less than half the price of comparable surgery in Australia. Large International hospitals in destinations like Düsseldorf (Germany) and Bangkok (Thailand) employ surgeons who have been trained in the UK, USA, Europe, Australia or New Zealand specifically to treat international patients from from these countries. In Thailand alone, orthopaedic surgeons and speciality international hospitals routinely perform joint replacement surgeries and provide comprehensive aftercare for hundreds of thousands of medical travellers each month.
Q8. Would you prefer someone help you to explore your options overseas?
Apart from the appeal of top-tier care in countries renowned for their private international hospitals, these hospitals in destinations like Bangkok have very short waiting lists (majority less than 2 weeks) and can save patients up to 50-80% off the price-tag of private knee surgery and hip surgery in Australia. For expert support and assistance with exploring international options, contact an official medical travel agency here in Australia or New Zealand. Generally, larger international hospitals overseas partner with reputable medical travel agencies in home countries to ensure that information is effectively communicated between patients and hospitals. Effectively, medical travel agencies help to compare and book the medical travel packages offered by the hospitals, much like a regular travel agency helps to book flights, accommodation and tours for travellers. Although medical travel agencies can help make recommendations for travel considerations, it's important to understand that medical travel agencies are not medical doctors and do not offer independent medical advice, but rather communicate the advice provided by surgeons and hospitals overseas.
Important: No two people with osteoarthritis have the same exact condition or medical needs. The most severe osteoarthritis may cause little to no pain in some while others suffer immense pain from the early onset. If you think you may have osteoarthritis, start the discussion with your doctor(s) about diagnosing your condition and working towards a long-term treatment plan which considers all of your options.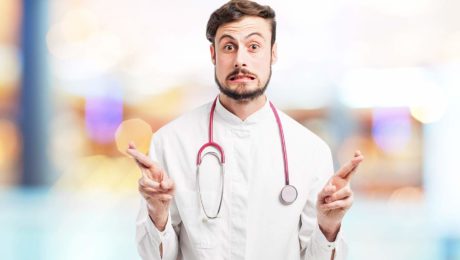 Photograph by Kues
We all have that one friend who has an uninformed opinion about everything, and supports their every argument by referring to something they saw on a morning show or heard from a friend about their friend.
Much like our opinionated friends, the people we trust the most are only human. It's difficult to be immune to any of the sensationalised stories presented on TV – even medical researchers, doctors and academics buy into the Nutribullets, Ab Swing Pros and those Dust-collecting Extendable Ladders. But sometimes we let ourselves force silly unsubstantiated opinions on others more than we should, especially when we're concerned for their safety and well-being. This list is a reminder for both the patients who are simply considering all of their options; and the friends and family who fall into the trap of discounting the quality of anything happening overseas.
The following are the 7 of the most commonly reported statements that friends, families or physicians (i.e. doctors) have told previous patients after the idea of having surgery overseas is mentioned.
(Disclaimer: These are actual statements reported to us by our patients over the last 5 years)
1. "The orthopaedic surgeons in Thailand aren't properly qualified"
In reality, Thai (and German and British and Australian and American) orthopaedic surgeons are some of the most respected in the world. Just within our network of affiliated surgeons alone, each specialist in Thailand holds a fellowship in at least one of advanced orthopaedics, microsurgery or sports medicine at either the University of London, University of Birmingham, University of Kyoto or John Hopkins University in the USA.
One of our surgeons completed orthopaedic surgical training in Sydney, but perhaps interestingly that's not featured on his resume.
2. "The hospitals overseas are tiny shacks or are tucked away in shady backstreets"
Most people have at least driven past a private multicentre hospital before, and will have noticed that they're not exactly the size of a backstreet coffee shop. Our affiliated hospitals in Thailand (and Germany, for that matter) are parts of large medical precincts, each week welcoming thousands of patients from around the world as they wheel in and walk out of their doors, foyers, emergency departments, wards and… many coffee shops.
There are small hospitals and medical centres spread throughout much of Asia, Europe, Australia and New Zealand. If you prefer to have major medical procedures performed in large international hospitals, complete with critical care, emergency and cardiology departments, we would recommend making sure to either check the hospital and ask the important questions directly. Alternatively, if it's a hospital within the World Orthopaedic network, you can rest assured it far surpasses these basic minimum requirements of our hospital criteria.
3. "Only Western doctors wash their hands properly"
It becomes quite disappointing to have to address any notion that the same preoperative "scrubbing up" procedures aren't performed in hospitals outside of Australia.
A presumably regretful statement about Thai surgeons not being clean was actually said on live Australian television by a rather upset Orthopaedic Surgeon in late-2016. Thankfully, countless orthopaedic surgeons in Australia and New Zealand know better and have travelled, trained and practiced overseas, with first-hand experience in international hospital environments.
4. "The implants used in Thailand are old or made from cheap metals"
A lot of things are made by Asian manufacturers – that computer in your pocket, for one – but orthopaedic implants really isn't one of them.
There is one interesting difference between the orthopaedic implants used in Australia and Thailand, but it's not what you may have heard.
Wholesale price.
The surgeons in Thailand can and do purchase the absolute best, latest generation implants for their patients at a fraction of the price that they're sold to Australian hospitals for. Thanks to this economic gradient, local Thai patients are provided orthopaedic surgery without it costing a Western arm and a leg.
In fact, the cost of hip replacement in Australia may be more expensive than hip replacement surgery anywhere else in the world, second only to the USA.
As part of our mandatory assessment process, our affiliated surgeons advise patients of the type, manufacturer and model (detailing materials of each part) for transparent comparison to implants recommended by surgeons in Australia.
5. "There's no aftercare in Thai hospitals"
In Australia, we're used to being kicked out of hospital only a few days after surgery. This is almost understandable given the burgeoning waiting lists and limited bed numbers in many local hospitals. Not to mention, many knee surgery and hip replacement patients are back on their feet within a couple of days, regardless of whether surgery is performed in Australia or abroad.
One thing that surprises most patients travelling overseas for surgery is the extended, warm and convenient aftercare provided by true international hospitals.
In Thailand, our patients are requested to stay at our partnered international hospitals for at least 10-14 days following surgery. As an inpatient, patients are provided all of the postoperative care, medications and physiotherapy rehabilitation you would expect from a large private hospital. As a result, patients spend their most critical days and weeks of recovery within metres of support from nursing, medical and rehabilitation staff.
6. "Thai hospitals don't have acceptable hygiene standards"
The healthcare industry in Thailand tries to turn a blind eye to these sorts of blindly generalised remarks, but many of these wonderfully dedicated physicians are still plainly aware of these unfortunate assumptions.
In actual fact, our partnered international hospitals in Bangkok have less than half the incidence of infection than the global first-world average. And the dreaded methycillin-resistant staphylococcus aureus (MRSA or Golden Staph) infection is almost unheard of in these hospitals – ironically, MRSA appears to be more prevalent in Western hospitals.
7. "Things can go wrong when you get home and your Australian doctor won't help you"
Actually this one's half-correct. No matter where your surgery is performed or who your surgeon is, orthopaedic surgery is major surgery, and complications can (and do) happen. Importantly, when typical complications do occur in otherwise healthy patients, most often the symptoms present themselves in the first few days to one week after surgery – generally while patients are still recovering in the ward under constant monitoring.
For those having surgery back in Australia, if you've already been discharged from your hospital and sent home, you'll have to make another appointment with your surgeon and arrange to return to your hospital or surgeon's office, even to ask seemingly simple questions about each little change in discomfort or mobility.
For those having surgery in Thailand, while you're still recovering in your private hospital suite after surgery (remember, 10-14 days of in-hospital recovery is included), you'll be just a press of a button away from a nurse or doctor addressing even the simplest of concerns.
Rest assured, just like in Australia or New Zealand, in the unlikely event that revision surgery is required due to any fault of the surgeon or implant this is generally offered by your surgeon without additional medical fees.
As for whether or not your local doctor will shun you from care when you return home, imagine this: If you were to break your leg skiing in Switzerland and a Swiss surgeon pinned your leg back together. Would you expect to have to travel back to Switzerland every time you had a medical question?
No. That's part of the job of being a doctor anywhere in the world – knowingly treating patients who have been to other doctors before.
Specifically, arthroplastic (implant) orthopaedic surgery is one of the handful of surgical fields where the majority of long-term follow-ups are generally deferred to the capable hands of your trusted local general practitioner (GP).
If your GP doesn't agree to help you anymore because you had surgery performed by someone they haven't met, or isn't even willing to discuss any of the legitimate options possibly available to patients overseas – it might be time to consider a second opinion.
If you've heard any silly throw-away statements about surgery in Thailand, or have any questions about legitimate concerns you'd like us to address about surgery overseas, please feel free to write them in the comments below.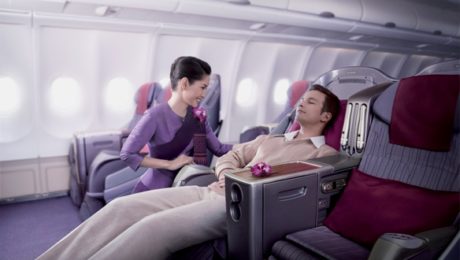 Thai Airways is our preferred full-service provider of luxuriously comfortable air travel for orthopaedic patients travelling to Bangkok.
When our patients choose to have surgery in Thailand, we book with Thai Airways because their staff understand the needs of our patients. Although we often organise flights with budget airlines at the request of our patients, we recommend flying with Thailand's most reputable airline, Thai Airways.
As an added benefit, once you step aboard a Thai Airways plane, be it a new Boeing 777 or Airbus A380, you'll feel like you've already landed in Thailand right from the first time you hear "Sawat-dee".
All airfares booked through Thai Airways include:
Wheelchair Assistance
Priority Boarding
Meals & Snacks while on-board
Pillows & Blankets as required
Movies & In-flight Entertainment
Priority Customs Clearance through Bangkok Airport
Once you've flown to Bangkok with Thai Airways, you'll never fly with a budget airline again!