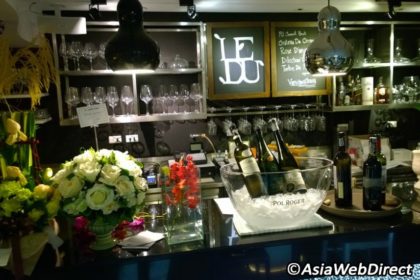 There's plenty more to do in Bangkok besides sitting in a hospital or hotel recovering from orthopaedic surgery. The city's electric atmosphere and energy are major draw-cards for some of the most acclaimed and celebrated chefs and boutique cuisines around the world.
Once a quiet and traditional city, Bangkok's more recent developments have included modern hotels and resorts peppered about an ever-evolving and explicit cultural focus on appeasing the more contemporary tourist.
Of course, there are as many options for street food as there ever have been, but if you're looking for a more delicately assembled meal amidst a more refined ambiance, then the following list may suit your needs perfectly.
Sühring Restaurant | Contemporary German Cuisine
Sühring Restaurant would grace any city in the world, so the fact they decided to open in Bangkok is a great acknowledgement of the city's rapidly evolving cultural scene. The modern German cuisine is truly exceptional and the familial setting feels inviting and genuine. Opened by the famed twin chefs, Thomas and Mathias Sühring (known best in Bangkok from their celebrated tenure at Mezzlauna), this was a high profile restaurant opening because they serve something previously unknown to Bangkok's fine-dining lovers: seasonal, high-end German cuisine.
Opening Hours         : 18:00-23:00 daily
BTS                              : Chong Nonsi (5 minute taxi ride still required)
Address                     : 10 Yen Akat Road Soi 3, Chong Nonsi, Sathorn
Tel                               : +66 (0)2 287 1799
Le Du Restaurant Silom | Modern Thai (Not French) Cuisine
Le Du, located in the now fine-dining haven of Silom, offers highly creative cuisine courtesy of two youthful Thai-born chefs who have won over critiques for their visionary techniques and approaches. Despite a French sounding name, Le Du is not a French restaurant at all… Le Du means 'Season' in Thai and categorizing its menu is a bit difficult. It could be defined as 'Young Creative Cuisine with Thai Roots' – with touches from many international origins. And here 'Young' doesn't mean amateur – both head chefs at Le Du have an impressive culinary background.
Opening Hours         : Monday to Saturday 18:00 – 23:00 (Closed on Sundays)
Location                    : 399/3 Silom Soi 7
BTS                              : Chong Nonsi exit 4
Tel                               : +66 (0)92 919 9969
"Eat Me" Gallery & Restaurant | Innovative Global Cuisine
Eat Me – The name is less of a suggestion and more a promise of something irresistible. This gallery and restaurant on Soi Convent in Silom lives up to its name by serving mouth-watering modern international food, good drinks and some very tasty desserts. The restaurant has been wowing the crowds for years which is no mean feat given Bangkok's fickle dining scene and even fickler diners. Things are kept things fresh with ever-changing art exhibitions, an inventive menu and a smart casual dress code.
Opening Hours: 15:00 – 01:00
MRT: Silom
BTS: Sala Daeng
Address: 1/6 Pipat Soi 2, Convent Rd, Silom
Tel: +66 (0) 2 238 0931
Mezzaluna at Lebua Hotel
Mezzaluna is a truly exceptional fine-dining restaurant, located inside the iconic golden 'Dome' at the top of Lebua Hotel. Famed for its set menus that come in four or seven courses only, Mezzaluna impresses with a new daily menu of world-class haute cuisine prepared by a visionary chef. Chef Ryuki Kawasaki has worked his way around the world rubbing shoulders and knives with a visionary 'who's who' of culinary giants including Pierre Gagnaire and Joel Robuchon. It's fair to encourage sky-high expectations of this restaurant – as all of these are sure to be exceeded with aplomb. This is not an inexpensive menu (4,900 baht for 4 courses, 5,900 baht for 7 courses), but if you are looking to dazzle someone on a special occasion, Mezzaluna has what you're looking for.
Opening Hours         : Tuesday to Sunday – 18:00 to 01:00
BTS                              : Saphan Taksin
Address                     : 65th floor, Tower Club at lebua Hotel, Silom Road
Tel                               : +66 (0) 2624 9802