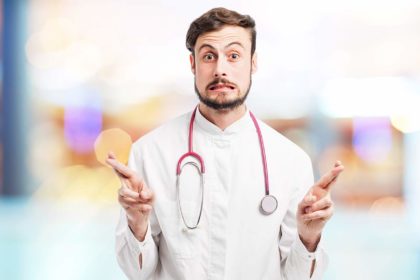 Photograph by Kues
We all have that one friend who has an uninformed opinion about everything, and supports their every argument by referring to something they saw on the morning show or "in this article I read [on Facebook]".
Orthopaedic surgeons, much like our opinionated friends, are only human. They're not immune to the hype presented on TV – they buy just as many Nutribullets, Ab Swings and Dust-collecting Extendable Ladders as the rest of us. But sometimes they get away with saying far more than they should to the patients that trust them – even though some of it does eventually sound quite ridiculous.
The following are the 6 most embarrassing lies that orthopaedic surgeons have legitimately passed onto their Australian patients:
(Disclaimer: These are actual statements reported to us by our patients over the last 5 years)
1. "The orthopaedic surgeons in Thailand aren't as qualified"
Thai orthopaedic surgeons are some of the most respected in the world. Just within our network of surgeons alone, each specialist holds a fellowship in at least one of advanced orthopaedics, microsurgery or sports medicine at either the University of London, University of Birmingham, University of Kyoto or John Hopkins University in the USA.
One of our surgeons completed his orthopaedic surgical training in Sydney, but that's buried deep at the bottom of his resume.
2. "The hospitals overseas are found in shady back streets"
I'm sure you've at least driven past a hospital before, and you'll have noticed that they're not exactly back-street coffee shop-sized. Our Thai hospitals have their own precincts and each week thousands of patients from around the world wheel in and walk out their doors, foyers, emergency departments, wards and (get this) many coffee shops.
Sure, there are small hospitals in existence, but the only time we seem to think that a converted home-office-clinic-surgery is acceptable, is if it has a colourbond roof.
3. "They use contaminated tap water in open surgery"
With the earliest uses of water filtration originating back in the 1600's, it's incredible that some educated people still believe that these filtration systems are not used in hospitals. Even more amazing is the notion that stormwater is cleaner back home.
This statement was actually said on live Australia television by a less-than-coherent local Orthopaedic Surgeon gripping at straws in late 2016. The shame. Thankfully, most orthopaedic surgeons in Australia are far more sensible, smart and feel less of a need to be defensive about their speciality's future.
4. "The implants used in Thailand are old and made from cheap metals"
A lot of things are made in Asia, but orthopaedic implants really isn't one of them.
There is one interesting difference between the orthopaedic implants used in Australia and Thailand, but it's not what your surgeon may think.
Price.
The surgeons in Thailand can and do purchase the absolute best, latest generation implants for their patients at a fraction of the price that they're sold to Australian hospitals for. Thanks to this economic slope, local Thai patients are provided orthopaedic surgery without it costing an arm and a leg – ironic pun definitely intended.
In fact, the cost of hip replacement in Australia is more expensive than hip replacement surgery anywhere else in the world, second only to the USA.
If anyone is skimping on implant quality, it won't be Thai surgeons.
5. "There's no aftercare in cheaper hospitals"
In Australia, we're used to being kicked out of hospital only a few days after surgery. And sure, many knee surgery and hip replacement patients worldwide are back on their feet within a couple of days.
But Thai hospitals don't shoo you out the doors just as soon as you can stand again – their aftercare is incredible.
Our patients are encouraged to stay at our preferred international hospitals for at least 10-14 days following surgery in Thailand. As an inpatient, they're provided all of the postoperative care, medications and physiotherapy rehabilitation you would expect from a large private hospital and spend the rest of their recovery within metres of support from nursing, medical and rehabilitation staff.
6. "International hospitals don't have acceptable hygiene standards"
The healthcare industry in Thailand tries to turn a blind eye to these sorts of racist remarks, but they still appreciate the skewed perspective Australians have of Thai hospitals.
Similarly, I once heard a surgeon from the US ask an Australian surgeon if he wore thongs in theatre. But you wouldn't hear this same harmless query stated as damning attack on Australian health standards an American morning show.
In actual fact, our partnered hospitals have less than half the incidence of infection than the global first-world average. And the dreaded methycillin-reistant staphylococcus aureus (MRSA or Golden Staph) infection is almost unheard of in these hospitals – that's ironically more prevalent in Western hospitals.
7. "Things can go wrong when you get home and your Australian doctor won't be able to help you"
Actually this one's almost half-correct, things can go wrong after orthopaedic surgery, no matter where it's performed. But if this happens the symptoms almost exclusively present themselves in the first few days to a week after surgery.
For those having surgery back in Australia, if you've already been marched out of your hospital and sent home, you'll have to make another appointment and get yourself back to your hospital just to ask a question every time something doesn't feel right.
For those having surgery in Thailand, if you're still relaxing in your private hospital suite after surgery (remember 10-14 days of in-hospital recovery), you're just a press of a button away from a nurse or doctor addressing even the simplest of concerns.
Rest assured, just like in Australia, in the unlikely event that revision surgery is required due to any fault of the surgeon or implant this is generally covered offered by your surgeon for free.
Thought-provoking exercise: If you were to break your leg skiing in Switzerland and a Swiss surgeon pinned your leg back together, do your Australian GP would force you to travel back to Switzerland for all of your follow-ups? Of course not.
Orthopaedic surgery is often quietly referred to as the "woodwork of medicine". It's one of the few surgical areas where the majority of long-term follow-ups are generally left in the capable hands of your general practitioner.
If your GP doesn't agree to help you anymore because you had surgery overseas, or doesn't discuss surgery overseas as an option for you – it might be time to find a new GP.
If you've heard any of these "porkies" from your surgeon, or others that should be included in this list, write them in the comments below.